Rip currents are a danger many of us may not think about while on vacation, but they are a deadly phenomenon every year on America's beaches. As of June 3, 21 people had already been killed by rip currents in the U.S. this year, according to NOAA. Seven of those were in Florida and five in North Carolina, and the victims ranged in age from 5 years old to 75.

A rip current is a strong but narrow current that flows away from the beach. Rip currents can form at any beach with breaking waves, including the Great Lakes. The speed of a rip current can exceed 6 miles per hour - faster than an Olympic swimmer - and can extend the length of a football field off the coast.
About 100 people have died in surf-related incidents at U.S. beaches each year since 2013, when NOAA started keeping statistics. The majority of have been killed by rip currents. There are over 30,000 rescues per year in the United States from rip currents. Rip currents can be hazardous in waves that are as low as 2 or 3 feet high, conditions that make the surf look tempting to wade into.

Rip currents are particularly dangerous because they are difficult to identify, and the worst events can occur during otherwise good weather when your guard might be let down. They also tend to be strongest during low tide. Significant rip currents are more likely to occur with a strong onshore wind. Sometimes you can spot a rip current because it can look darker than surrounding waters. Another sign is an area where waves do not break, with breaking waves on either side. You can sometimes see water, or seaweed, moving away from the beach.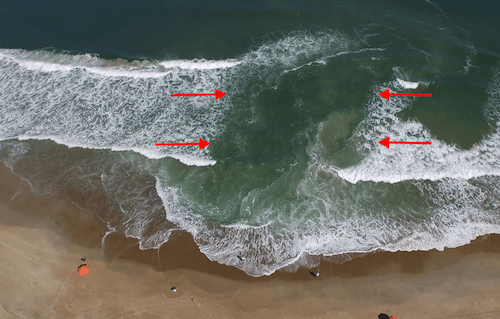 If you are headed to the beach, always be aware of current weather conditions and the rip current threat. There are color-coded flags placed on many beaches each day to communicate the current threat. A green flag (low risk) indicates that strong rip currents are not likely. A yellow flag (moderate risk) means that there is a good chance for strong rip currents and a red flag (high risk) signals that strong rip currents are expected. NOAA issues rip current forecasts on its website, and many cities and counties also post updates on their social media accounts.

If you are caught in a rip current, here are some safety tips (from NOAA):
Remain calm to conserve energy and think clearly.
Never fight against the current.
Think of it as a treadmill that can't be turned off, which you need to step to the side of.
Swim out of the current in a direction following the shoreline.
If you are unable to swim out of a rip current, float or calmly tread water. When out of the current, swim toward shore.
If you are still unable to reach the shore, draw attention to yourself by waving your arm and yelling for help.
If you see someone in trouble, get help from a lifeguard and throw the victim something that floats. Many people drown while trying to save someone else from a rip current.